It's that time of year again! After a long winter, everyone is always anticipating fun summer activities as the weather starts to warm up and things turn green again. Exciting things are happening, one of which being another lineup of musical artists for Swingin' at the Shell!
Excited for another summer of music

Since 2004, free concert lineups at Swingin at the Shell have been a tradition the Albion Community can count on. 
Even in 2020, when COVID shut down most activities and group gatherings, the show still went on: Utilizing the outdoor location and social distancing, the summer 2020 lineup was able to happen. Three years later and nothing has changed- the excitement and determination to bring another summer of music to Albion is still here!
Lineups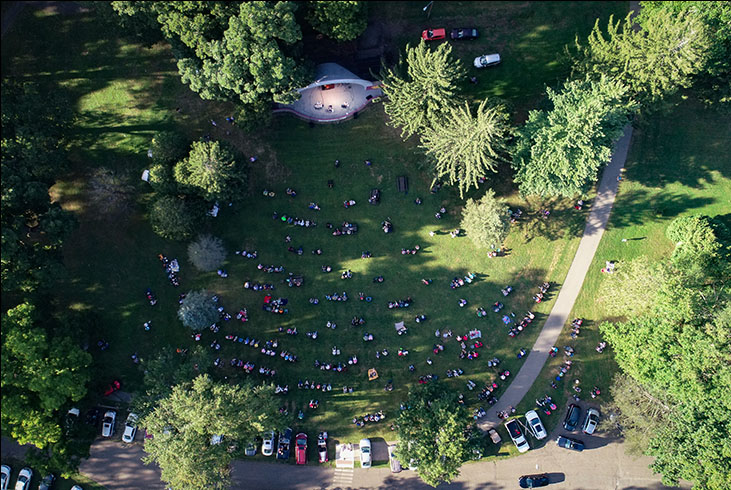 Past lineups at Swingin at the Shell have been very diverse and appealing to all: There have been individual unique artists, bands that pay tribute to other widely known bands, and more. Take last year's lineup for example. Out of the four concerts, there was one solo artist (Diane Penning), one unique band (CutTime Simfonica), and two tribute bands towards Queen and Fleetwood Mac (Fleetwood Gold and Simply Queen).
This year's lineup is in the works, but it will definitely be worth looking forward to. 
Conscious capitalism & Swingin at the Shell  
Swingin' at the Shell is a Caster Concepts sponsored program aiming to provide a variety of family-friendly musical entertainment to the surrounding area. 

Caster Concepts' involvement in Swingin' at the Shell goes beyond sponsorship and financial support: The personal involvement is there too. Bill Dobbins, President of Caster Concepts, is Vice President of the board of directives for the organization.
A value of Caster Concepts is to promote community engagement and growth along with the growth of the business. The company's roots to the city of Albion run deep, and so community involvement is important to them. The support from Caster Concepts in Swingin' at the Shell is just another way they choose to give back to the Albion community and continue to align with practices of conscious capitalism- it's definitely a fun one too!
Planning for another successful summer series
Overall, the hearts and minds behind Swingin' at the Shell are more than enough to guarantee another great summer. In the coming months, stay tuned for lineup information and more!